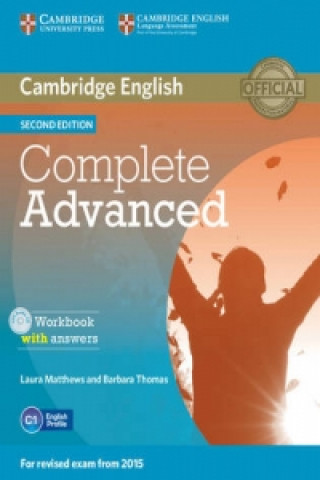 Kód: 02285429
Cambridge English Complete Advanced Workbook with answers Second edition
Complete Advanced provides thorough preparation for the revised 2015 Cambridge English: Advanced (CAE) exam. It combines the very best in contemporary classroom practice with first-hand knowledge of the challenges students face. T ... celý popis

Skladem u dodavatele
Odesíláme za 2-5 dnů
Přidat mezi přání
Mohlo by se vám také líbit
Dárkový poukaz: Radost zaručena
Darujte poukaz v libovolné hodnotě a my se postaráme o zbytek.
Poukaz se vztahuje na celou naši nabídku.
Elektronický poukaz vytisknete z e-mailu a můžete ihned darovat.
Platnost poukazu je 12 měsíců od data vystavení.
Více informací o knize Cambridge English Complete Advanced Workbook with answers Second edition
Nákupem získáte 47 bodů
Anotace knihy
Complete Advanced provides thorough preparation for the revised 2015 Cambridge English: Advanced (CAE) exam. It combines the very best in contemporary classroom practice with first-hand knowledge of the challenges students face. This course provides comprehensive language development integrated with exam-task familiarisation. There are exercises to help students avoid repeating the typical mistakes that real exam candidates make, as revealed by the Cambridge Learner Corpus. This topic-based course covers every part of Cambridge English: Advanced in detail, ensuring that students are fully equipped to tackle each part of every paper. Exam information and Exam advice is offered throughout, culminating in Exam round-up sections which check that candidates know how to approach each paper. The accompanying CD-ROM enables students to focus on their own particular areas of difficulty and work at their own pace.
Parametry knihy
Zařazení knihy Knihy v polštině Nauki społeczne, humanistyczne, ekonomiczne Językoznawstwo Poszczególne języki
Plný název: Cambridge English Complete Advanced Workbook with answers Second edition
Autor: Laura Matthews, Barbara Thomas
Jazyk: Angličtina
Vazba: Brožovaná
Počet stran: 96
EAN: 9781107675179
ISBN: 1107675170
ID: 02285429 Nakladatelství: Cambridge University Press
Hmotnost: 286 g
Rozměry: 220 × 276 × 5 mm
Rok vydání: 2014
Oblíbené z jiného soudku
---
O tomto obchodě




Nákupní rádce
Přehledy
---
Osobní odběr Praha, Brno, Ostrava, Olomouc, ČB a 4869 dalších
Při poskytování služeb nám pomáhají soubory cookies. Používáním našich služeb vyjadřujete souhlas s jejich užíváním. Více informací
---
Jsme tu pro vás jako obvykle. Zákaznická podpora a doručení zásilek bez omezení.

Nákupní košík ( prázdný )
---