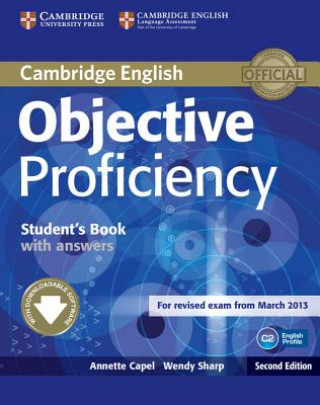 Kód: 01211903
Objective Proficiency Student's Book with Answers with Downloadable Software
Objective Proficiency second edition has been fully updated for the revised exam. Its twenty short units provide a wide range of challenging topics, and lively, stimulating exam preparation. Equally, the material presents interest ... celý popis
657 Kč
Původní cena: 755 Kč
Ušetříte 98 Kč

Skladem u dodavatele
Odesíláme do 4 dnů
Přidat mezi přání
Mohlo by se vám také líbit
Darujte tuto knihu ještě dnes
Objednejte knihu a zvolte Zaslat jako dárek.
Obratem obdržíte darovací poukaz na knihu, který můžete ihned předat obdarovanému.
Knihu zašleme na adresu obdarovaného, o nic se nestaráte.
Více informací o knize Objective Proficiency Student's Book with Answers with Downloadable Software
Nákupem získáte 66 bodů
Anotace knihy
Objective Proficiency second edition has been fully updated for the revised exam. Its twenty short units provide a wide range of challenging topics, and lively, stimulating exam preparation. Equally, the material presents interesting and motivating material for those studying English at C2-level for career or general purposes. The course covers all parts of the Proficiency exam in detail, providing information, advice and practice to ensure that students are fully prepared for every aspect of the exam. Informed by the Cambridge Learner Corpus, Objective Proficiency includes examples and exercises which tackle typical Proficiency problem areas, making it the most authoritative Proficiency preparation course available.
Parametry knihy
Zařazení knihy Knihy v angličtině English language teaching (ELT) ELT: learning material & coursework ELT examination practice tests
Na knihu sleva pro
ISIC/ITIC držitele
657 Kč
Plný název: Objective Proficiency Student's Book with Answers with Downloadable Software
Autor: Annette Capel
Jazyk: Angličtina
Vazba: Pevná
Počet stran: 279
EAN: 9781107646377
ISBN: 1107646375
ID: 01211903 Nakladatelství: Cambridge University Press
Hmotnost: 720 g
Rozměry: 273 × 216 × 13 mm
Datum vydání: 20. prosinec 2012
Oblíbené z jiného soudku
1000 Kč -9 %
561 Kč
624 Kč -1 %
464 Kč -7 %
526 Kč -12 %
498 Kč -12 %
561 Kč -12 %
1019 Kč -5 %
---
O tomto obchodě




Nákupní rádce
Přehledy
---
Osobní odběr Praha, Brno, Ostrava, Olomouc, ČB a 4313 dalších
Při poskytování služeb nám pomáhají soubory cookies. Používáním našich služeb vyjadřujete souhlas s jejich užíváním. Více informací
---
Jsme tu pro vás jako obvykle. Zákaznická podpora a doručení zásilek bez omezení.

Nákupní košík ( prázdný )
---