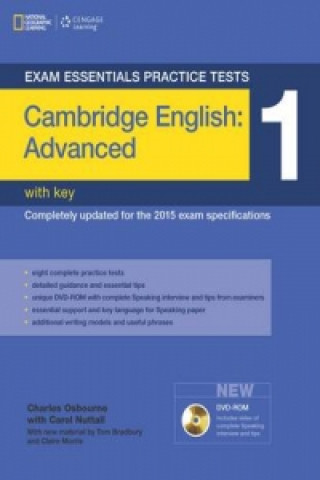 Kód: 02625439
Exam Essentials: Cambridge Advanced Practice Tests 1 w/key +
Exam Essentials is our major British English exam preparation series combining exam preparation, practice, and tips for the revised Cambridge English exams. This effective combination of testing and teaching has proved a popular ... celý popis

Skladem u dodavatele
Odesíláme za 13-17 dnů
Přidat mezi přání
Mohlo by se vám také líbit
Darujte tuto knihu ještě dnes
Objednejte knihu a zvolte Zaslat jako dárek.
Obratem obdržíte darovací poukaz na knihu, který můžete ihned předat obdarovanému.
Knihu zašleme na adresu obdarovaného, o nic se nestaráte.
Více informací o knize Exam Essentials: Cambridge Advanced Practice Tests 1 w/key +
Nákupem získáte 60 bodů
Anotace knihy
Exam Essentials is our major British English exam preparation series combining exam preparation, practice, and tips for the revised Cambridge English exams.
This effective combination of testing and teaching has proved a popular formula with teachers and students. The first two practice tests in each book are 'walk-through' tests. Students are carefully guided through the tests and shown how they work and what they have to do to succeed in each part of the exam. Additional step-by-step support for the Writing paper is offered in all the tests. All of the tests are written by experts in the field, which means that students preparing for the exams experience material that is appropriate for and at a level at least as high as the actual exams. Candidates internationally find the Speaking test very challenging. To help them deal with this, each Practice Test book comes with a DVD-ROM which includes a bespoke video showing a complete Speaking test interview as well as an examiner talking about this part of the exam and giving students expert guidance on how to approach it. The DVD-ROM also features worksheets to use with the interview and all the Listening test files.
Parametry knihy
Zařazení knihy Knihy v angličtině English language teaching (ELT) ELT: learning material & coursework ELT examination practice tests
Plný název: Exam Essentials: Cambridge Advanced Practice Tests 1 w/key +
Autor: Charles Osborne
Jazyk: Angličtina
Vazba: Pevná
Počet stran: 248
EAN: 9781285744971
ISBN: 1285744977
ID: 02625439
Nakladatelství: Cengage
Hmotnost: 728 g
Rozměry: 213 × 272 × 13 mm
Datum vydání: 25. březen 2014
Oblíbené z jiného soudku
---
O tomto obchodě




Nákupní rádce
Přehledy
Knihy podle jazyka
---
---
Všechny knihy světa na jednom místě. Navíc za skvělé ceny.

Nákupní košík ( prázdný )
---