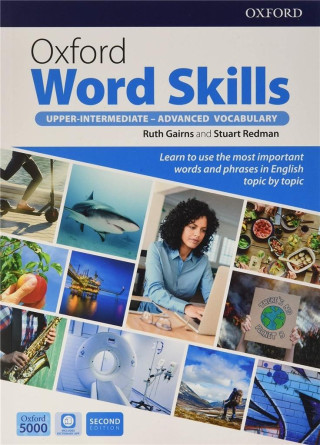 Kód: 33028185
Oxford Word Skills Advanced Student's Book
The third level in a three-level topic-based vocabulary course to learn and practise the words that learners need to know at each CEFR level, based on the Oxford 3000TM and 5000TM. Oxford Word Skills improves students' vocabulary ... celý popis

Skladem u dodavatele
Odesíláme do 4 dnů
Přidat mezi přání
Mohlo by se vám také líbit
Dárkový poukaz: Radost zaručena
Darujte poukaz v libovolné hodnotě a my se postaráme o zbytek.
Poukaz se vztahuje na celou naši nabídku.
Elektronický poukaz vytisknete z e-mailu a můžete ihned darovat.
Platnost poukazu je 12 měsíců od data vystavení.
Více informací o knize Oxford Word Skills Advanced Student's Book
Nákupem získáte 61 bodů
Anotace knihy
The third level in a three-level topic-based vocabulary course to learn and practise the words that learners need to know at each CEFR level, based on the Oxford 3000TM and 5000TM. Oxford Word Skills improves students' vocabulary and vocabulary-learning skills.
Short, clear presentations and lots of opportunity for practice give students the confidence to use new vocabulary. 100 units at each level mean they cover a huge range of topics and everyday situations. The Oxford Advanced Learner's Dictionary app, or OALD app, provides pronunciation and more information about the meaning and usage of words. Key features: learn over 2,800 words and phrases in each of the three books improve your vocabulary-learning skills practise the words in context study 100 units (20 extra!) with more practice use in the classroom and/or for self-study Oxford Word Skills covers the words that upper-secondary and young adult learners need to use English in real life, based on the updated and CEFR-levelled Oxford 3000TM. Revised and updated for the Second edition, now with 100 units (20 extra) and more practice. With over 2,800 key words at each level and plenty of opportunity to practise, students can cover exactly the vocabulary they need. The Oxford 3000TM word list provides core vocabulary that every learner of English needs to know, graded by CEFR level. It is ideal for use either in or outside the classroom. Each unit introduces just the right amount of vocabulary for students to learn and remember in one session and explains the new words using real-life contexts and situations. Oxford Word Skillspresents and practises the words, phrases, and lexical grammar students need to listen, speak, read, and write confidently on a wide range of topics and everyday situations. Oxford Word Skills includes 1 year's access to the Oxford Advanced Learner's Dictionary app, enabling students to listen to the pronunciation of each new word and do exercises on pronunciation in the books. They can also use the app to look up the meaning of any word or phrase they don't know.
Parametry knihy
Zařazení knihy Knihy v češtině Učebnice a odborná literatura Cizí jazyky Angličtina
Plný název: Oxford Word Skills Advanced Student's Book
Autor: Ruth Gairns, Stuart Redman
Jazyk: Angličtina
Vazba: Brožovaná
Počet stran: 256
EAN: 9780194605748
ISBN: 9780194605748
ID: 33028185
Nakladatelství: Oxford University Press
Hmotnost: 540 g
Rozměry: 264 × 190 × 20 mm
Rok vydání: 2020
Oblíbené z jiného soudku
---
O tomto obchodě




Nákupní rádce
Přehledy
Knihy podle jazyka
---
---
Všechny knihy světa na jednom místě. Navíc za skvělé ceny.

Nákupní košík ( prázdný )
---