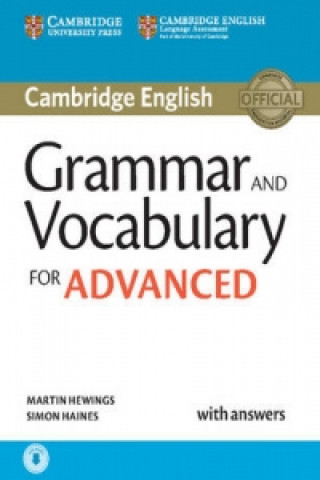 Kód: 08013175
Grammar and Vocabulary for Advanced Book with Answers and Audio
Grammar and Vocabulary reference and practice for the revised Cambridge English: Advanced (CAE) from 2015 Cambridge Grammar and Vocabulary for Advanced provides complete coverage of the grammar and vocabulary needed for the revis ... celý popis
786 Kč
Původní cena: 810 Kč
Ušetříte 24 Kč

Skladem u dodavatele
Odesíláme za 2-5 dnů
Přidat mezi přání
Mohlo by se vám také líbit
Dárkový poukaz: Radost zaručena
Darujte poukaz v libovolné hodnotě a my se postaráme o zbytek.
Poukaz se vztahuje na celou naši nabídku.
Elektronický poukaz vytisknete z e-mailu a můžete ihned darovat.
Platnost poukazu je 12 měsíců od data vystavení.
Více informací o knize Grammar and Vocabulary for Advanced Book with Answers and Audio
Nákupem získáte 79 bodů
Anotace knihy
Grammar and Vocabulary reference and practice for the revised Cambridge English: Advanced (CAE) from 2015 Cambridge Grammar and Vocabulary for Advanced provides complete coverage of the grammar and vocabulary needed for the revised exams, and develops listening skills at the same time. It provides students with practice of exam tasks from the Reading and Use of English, Writing and Listening papers and contains helpful grammar explanations and glossary. It also includes useful tips on how to approach exam tasks and learn vocabulary. It is informed by the Cambridge Learner Corpus to ensure that the language tackles real learner errors. The accompanying listening material is available online for download.
Parametry knihy
Zařazení knihy Knihy v polštině Nauki społeczne, humanistyczne, ekonomiczne Językoznawstwo Poszczególne języki
Plný název: Grammar and Vocabulary for Advanced Book with Answers and Audio
Podnázev: Self-Study Grammar Reference and Practice
Autor: Martin Hewings, Simon Haines
Jazyk: Angličtina
Vazba: Pevná
Počet stran: 278
EAN: 9781107481114
ISBN: 1107481112
ID: 08013175 Nakladatelství: Cambridge University Press
Hmotnost: 560 g
Rozměry: 246 × 192 × 14 mm
Datum vydání: 19. únor 2015
Oblíbené z jiného soudku
---
O tomto obchodě




Nákupní rádce
Přehledy
Knihy podle jazyka

---
Osobní odběr Praha, Brno, Ostrava, Olomouc, Plzeň, ČB a 3399 dalších
Při poskytování služeb nám pomáhají soubory cookies. Používáním našich služeb vyjadřujete souhlas s jejich užíváním. Více informací
---
Jsme tu pro vás jako obvykle. Zákaznická podpora a doručení zásilek bez omezení.

Nákupní košík ( prázdný )
---