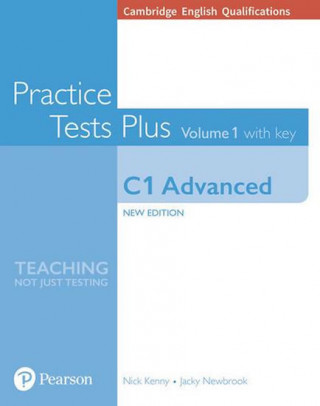 Kód: 18352713
Cambridge English Qualifications: C1 Advanced Practice Tests Plus Volume 1 with key
The Practice Tests Plus series provides authentic practice for the Cambridge English Preliminary exam, including complete tests with guidance and useful tips which maximise learners' chances of excelling. Key features are: 100% ... celý popis

Skladem u dodavatele
Odesíláme za 3-5 dnů
Přidat mezi přání
Mohlo by se vám také líbit
Dárkový poukaz: Radost zaručena
Darujte poukaz v libovolné hodnotě a my se postaráme o zbytek.
Poukaz se vztahuje na celou naši nabídku.
Elektronický poukaz vytisknete z e-mailu a můžete ihned darovat.
Platnost poukazu je 12 měsíců od data vystavení.
Více informací o knize Cambridge English Qualifications: C1 Advanced Practice Tests Plus Volume 1 with key
Nákupem získáte 54 bodů
Anotace knihy
The Practice Tests Plus series provides authentic practice for the Cambridge English Preliminary exam, including complete tests with guidance and useful tips which maximise learners' chances of excelling.
Key features are:
100% in line with current Cambridge exams requirements, including 2020 exam
Exam overview provides detailed information about each paper
Guidance activities increase awareness about what each part of the exam is testing and scaffold the students' experience (A2 Key and B1 Preliminary)
Tip strips provide strategies and hints on where to look and what to look for when responding to a question
Grammar bank provides language input, support and practice on some key structures for the level (A2 Key and B1 Preliminary)
Speaking bank provides useful language and extra practice for each part of the speaking test
Writing bank provides model answers, useful language and extra input to support the writing paper
Speaking test video allows students to see how the speaking test is carried out
Examiner feedback video aims to highlight strengths and areas for improvement
About the exam video gives information for the exam
Find out more at english.com/ptp
Parametry knihy
Zařazení knihy Knihy v angličtině English language teaching (ELT) ELT: learning material & coursework
Plný název: Cambridge English Qualifications: C1 Advanced Practice Tests Plus Volume 1 with key
Autor: Nick Kenny, Jacky Newbrook
Jazyk: Angličtina
Vazba: Brožovaná
Počet stran: 208
EAN: 9781292208725
ISBN: 9781292208725
ID: 18352713
Nakladatelství: PEARSON Education Limited
Hmotnost: 470 g
Rozměry: 275 × 219 × 9 mm
Datum vydání: 15. leden 2018
Oblíbené z jiného soudku
---
O tomto obchodě




Nákupní rádce
Přehledy
Knihy podle jazyka
---
---
Všechny knihy světa na jednom místě. Navíc za skvělé ceny.

Nákupní košík ( prázdný )
---