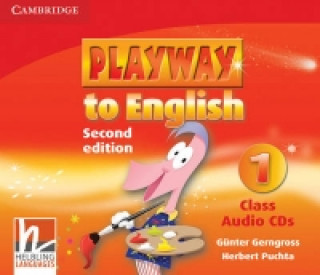 Kód: 01176910
Playway to English Level 1 Class Audio CDs (3)
Playway to English Second edition is a new version of the popular four-level course for teaching English to young children. Pupils acquire English through play, music and Total Physical Response, providing them with a fun and dyna ... celý popis
834 Kč
Původní cena: 860 Kč
Ušetříte 26 Kč

Skladem u dodavatele
Odesíláme za 2-5 dnů
Přidat mezi přání
Mohlo by se vám také líbit
335 Kč -1 %
212 Kč -26 %
834 Kč -3 %
548 Kč -13 %
548 Kč -13 %
687 Kč -13 %
834 Kč -3 %
287 Kč -13 %
686 Kč -11 %
257 Kč -11 %
548 Kč -13 %
1028 Kč -3 %
Darujte tento titul ještě dnes
Objednejte titul a zvolte Zaslat jako dárek.
Obratem obdržíte darovací poukaz na titul, který můžete ihned předat obdarovanému.
Titul zašleme na adresu obdarovaného, o nic se nestaráte.
Více informací o titulu Playway to English Level 1 Class Audio CDs (3)
Nákupem získáte 83 bodů
Anotace titulu
Playway to English Second edition is a new version of the popular four-level course for teaching English to young children. Pupils acquire English through play, music and Total Physical Response, providing them with a fun and dynamic language learning experience. On the Audio CDs: • All the songs, stories, chants and rhymes from the Pupil's Book and Activity Book
Parametry titulu
Zařazení titulu Knihy v polštině Nauki społeczne, humanistyczne, ekonomiczne Językoznawstwo Poszczególne języki
Plný název: Playway to English Level 1 Class Audio CDs (3)
Autor: Gunter Gerngross, Herbert Puchta
Jazyk: Angličtina
Vazba: CD
EAN: 9780521129848
ISBN: 0521129842
ID: 01176910 Nakladatelství: Cambridge University Press
Hmotnost: 182 g
Rozměry: 125 × 143 × 24 mm
Datum vydání: 12. březen 2009
Oblíbené z jiného soudku
---
O tomto obchodě




Nákupní rádce
Přehledy
Knihy podle jazyka

---
Osobní odběr Praha, Brno, Ostrava, Olomouc, Plzeň, ČB a 3670 dalších
Při poskytování služeb nám pomáhají soubory cookies. Používáním našich služeb vyjadřujete souhlas s jejich užíváním. Více informací
---
Z důvodu Brexitu a pandemické situace může docházet ke zpoždění doručení zásilek.

Nákupní košík ( prázdný )
---