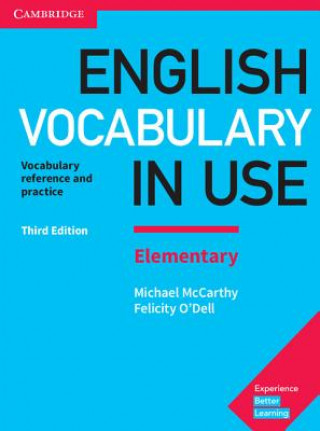 Kód: 16408058
English Vocabulary in Use Elementary Book with Answers
The words you need to communicate with confidence. Vocabulary explanations and practice for elementary level (A2) learners of English. Perfect for both self-study and classroom activities. Quickly expand your vocabulary with 60 ... celý popis

Skladem u dodavatele
Odesíláme do 4 dnů
Přidat mezi přání
Mohlo by se vám také líbit
Dárkový poukaz: Radost zaručena
Darujte poukaz v libovolné hodnotě a my se postaráme o zbytek.
Poukaz se vztahuje na celou naši nabídku.
Elektronický poukaz vytisknete z e-mailu a můžete ihned darovat.
Platnost poukazu je 12 měsíců od data vystavení.
Více informací o knize English Vocabulary in Use Elementary Book with Answers
Nákupem získáte 65 bodů
Anotace knihy
The words you need to communicate with confidence. Vocabulary explanations and practice for elementary level (A2) learners of English.
Perfect for both self-study and classroom activities. Quickly expand your vocabulary with 60 units of easy to understand explanations and practice exercises.
Be confident about what you are learning, thanks to Cambridge research into how English is really spoken and written and get better at studying by yourself, with study tips, follow-up tasks and an easy to use answer key. 
Parametry knihy
Zařazení knihy Knihy v angličtině English language teaching (ELT)
Plný název: English Vocabulary in Use Elementary Book with Answers
Podnázev: Vocabulary Reference and Practice
Autor: Michael McCarthy, Felicity O'Dell
Jazyk: Angličtina
Vazba: Brožovaná
Počet stran: 174
EAN: 9781316631539
ISBN: 9781316631539
ID: 16408058
Nakladatelství: Cambridge University Press
Hmotnost: 396 g
Rozměry: 264 × 198 × 8 mm
Datum vydání: 13. červenec 2017
Oblíbené z jiného soudku
---
O tomto obchodě




Nákupní rádce
Přehledy
Knihy podle jazyka
---
---
Všechny knihy světa na jednom místě. Navíc za skvělé ceny.

Nákupní košík ( prázdný )
---