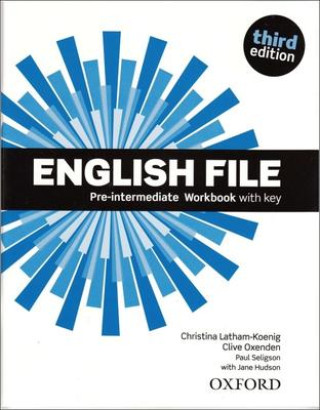 Kód: 22520304
English File Pre-intermediate Workbook with Answer Key (3rd) without CD-ROM
Published 2019. English File Third Edition provides a comprehensive package of completely new lessons, and up to date texts. A proven balance of grammar, vocabulary, pronunciation and skills gives students the language they need ... celý popis

Skladem u dodavatele
Odesíláme do 4 dnů
Přidat mezi přání
Mohlo by se vám také líbit
Dárkový poukaz: Radost zaručena
Darujte poukaz v libovolné hodnotě a my se postaráme o zbytek.
Poukaz se vztahuje na celou naši nabídku.
Elektronický poukaz vytisknete z e-mailu a můžete ihned darovat.
Platnost poukazu je 12 měsíců od data vystavení.
Více informací o knize English File Pre-intermediate Workbook with Answer Key (3rd) without CD-ROM
Nákupem získáte 42 bodů
Anotace knihy
Published 2019.
English File Third Edition provides a comprehensive package of completely new lessons, and up to date texts. A proven balance of grammar, vocabulary, pronunciation and skills gives students the language they need and fresh lively lessons and engaging topics make classes enjoyable, and provide the motivation and opportunity to practice and improve.
New file structure makes courses easier to prepare, teach and organize A fine-fined syllabus provides confidence for teachers and students Engaging topics and texts bring the classroom to life Video content films especially for English File Digital learning and teaching tools Online and mobile audio and video content. 
Parametry knihy
Zařazení knihy Knihy v angličtině English language teaching (ELT)
Plný název: English File Pre-intermediate Workbook with Answer Key (3rd) without CD-ROM
Podnázev: Third edition
Jazyk: Angličtina
Vazba: Brožovaná
Počet stran: 96
EAN: 9780194598224
ISBN: 9780194598224
ID: 22520304
Nakladatelství: Oxford University Press
Hmotnost: 232 g
Rozměry: 221 × 276 × 3 mm
Datum vydání: 23. květen 2019
Oblíbené z jiného soudku
---
O tomto obchodě




Nákupní rádce
Přehledy
Knihy podle jazyka
---
---
Všechny knihy světa na jednom místě. Navíc za skvělé ceny.

Nákupní košík ( prázdný )
---