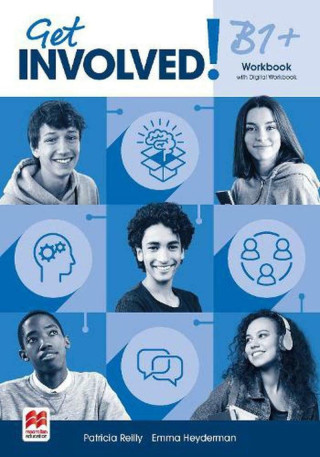 Kód: 36922377
Get Involved! B1+ Workbook and Digital Workbook
Get Involved! equips teenage students with the sense of excitement and appetite to explore the world ahead of them. It develops the linguistic skills and Super Skills, encouraging them to get involved in driving their future. The ... celý popis

Skladem u dodavatele
Odesíláme do 4 dnů
Přidat mezi přání
Mohlo by se vám také líbit
Darujte tuto knihu ještě dnes
Objednejte knihu a zvolte Zaslat jako dárek.
Obratem obdržíte darovací poukaz na knihu, který můžete ihned předat obdarovanému.
Knihu zašleme na adresu obdarovaného, o nic se nestaráte.
Více informací o knize Get Involved! B1+ Workbook and Digital Workbook
Nákupem získáte 26 bodů
Anotace knihy
Get Involved! equips teenage students with the sense of excitement and appetite to explore the world ahead of them. It develops the linguistic skills and Super Skills, encouraging them to get involved in driving their future. The course also enables teachers to create an inclusive classroom where everyone reaches their potential and has an opportunity to shine. What makes a hero? What is an ideal school? Why do people dress up? Each unit starts with a question to generate curiosity and ensure every student gets involved. Throughout the unit learners gain the knowledge, the language and skills to answer the question in the end-of-the-unit Collaborative Project. Completing the project gives students an opportunity to use the new language and skills straightaway.
Parametry knihy
Zařazení knihy Knihy v angličtině English language teaching (ELT)
Plný název: Get Involved! B1+ Workbook and Digital Workbook
Autor: Patricia Reilly, Emma Heyderman
Jazyk: Angličtina
Vazba: Brožovaná
EAN: 9781380068934
ISBN: 1380068932
ID: 36922377
Nakladatelství: Macmillan Education
Hmotnost: 270 g
Rozměry: 211 × 296 × 10 mm
Datum vydání: 04. březen 2021
Oblíbené z jiného soudku
---
O tomto obchodě




Nákupní rádce
Přehledy
Knihy podle jazyka
---
---
Všechny knihy světa na jednom místě. Navíc za skvělé ceny.

Nákupní košík ( prázdný )
---