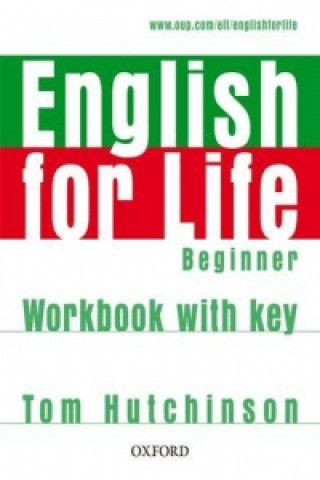 Kód: 00133464
English for Life Beginner Workbook with Key
One page. One lesson. One focus. Everything you look for in an English course, made simple. Key features •Perfectly simple: each lesson is just one page, needing no teaching preparation - simply 'pick up and teach'. •Distinct ... celý popis

Skladem u dodavatele
Odesíláme za 7-10 dnů
Přidat mezi přání
Mohlo by se vám také líbit
Dárkový poukaz: Radost zaručena
Darujte poukaz v libovolné hodnotě a my se postaráme o zbytek.
Poukaz se vztahuje na celou naši nabídku.
Elektronický poukaz vytisknete z e-mailu a můžete ihned darovat.
Platnost poukazu je 12 měsíců od data vystavení.
Více informací o knize English for Life Beginner Workbook with Key
Nákupem získáte 50 bodů
Anotace knihy
One page. One lesson. One focus. Everything you look for in an English course, made simple.
Key features
•Perfectly simple: each lesson is just one page, needing no teaching preparation - simply 'pick up and teach'. •Distinct language points in short chunks: 80 lessons cover either vocabulary, grammar, skills, or functional language, each with an interactive catch-up lesson on the MultiROM. •Visual presentation: dialogues, stories, and picture-dictionary style vocabulary makes new language easy to understand and remember. •'Real life' focus: 'English for Everyday Life' lessons, 'English in the World cultural feature, and a 'Your life' personalization opportunity in every lesson. •'That's life' story: regular episodes provide language review in a real life context. Everything in one place for the teacher: an interleaved Teacher's Book with facing-page lesson guide, an extra photocopiable activity per lesson, plus a customizable test CD.
Parametry knihy
Zařazení knihy Knihy v angličtině English language teaching (ELT) ELT: learning material & coursework ELT workbooks, practice books & exercises
Plný název: English for Life Beginner Workbook with Key
Podnázev: General English four-skills course for adults
Autor: Tom Hutchinson
Jazyk: Angličtina
Vazba: Brožovaná
Počet stran: 88
EAN: 9780194307611
ISBN: 0194307611
ID: 00133464
Nakladatelství: Oxford University Press
Hmotnost: 210 g
Rozměry: 277 × 219 × 5 mm
Rok vydání: 2007
Oblíbené z jiného soudku
---
O tomto obchodě




Nákupní rádce
Přehledy
Knihy podle jazyka
---
---
Všechny knihy světa na jednom místě. Navíc za skvělé ceny.

Nákupní košík ( prázdný )
---