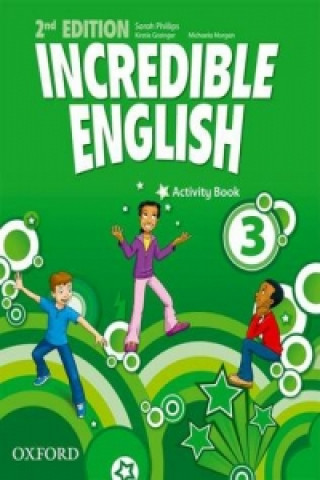 Kód: 01172789
Incredible English: 3: Activity Book
This great new introduction to the 6-level Incredible English series is a completely wordless course book. The course supports an aural-oral introduction to English, for children who are not yet ready to start reading and writing ... celý popis

Skladem u dodavatele
Odesíláme do 3 dnů
Přidat mezi přání
Mohlo by se vám také líbit
Dárkový poukaz: Radost zaručena
Darujte poukaz v libovolné hodnotě a my se postaráme o zbytek.
Poukaz se vztahuje na celou naši nabídku.
Elektronický poukaz vytisknete z e-mailu a můžete ihned darovat.
Platnost poukazu je 12 měsíců od data vystavení.
Více informací o knize Incredible English: 3: Activity Book
Nákupem získáte 27 bodů
Anotace knihy
This great new introduction to the 6-level Incredible English series is a completely wordless course book. The course supports an aural-oral introduction to English, for children who are not yet ready to start reading and writing in English.
With 60 hours of material, Incredible English Starter aims to bridge the gap between pre-school and primary school and develops their understanding of the world and social skills along with their English language learning. Key Features: 60 hours of material; 10 lessons in six units with topics familiar to children of this age. Resources perfectly suited to young learners: an easy-to-manage combined Class Book and Activity Book and re-useable stickers Vocabulary and structures are presented and practised using catchy songs and chants. Well-loved Incredible English characters feature in lively stories designed to engage the children and encourage a response, building confidence with the language. Variety of activities to suit different learning styles ? action games, observation games, sequencing, self-assessment The CLIL approach helps learners explore some of their first experiences of English through other subjects - Art, Biology and Maths Assessment is supported in the test section and with photocopiable record cards.
Parametry knihy
Zařazení knihy Knihy v angličtině English language teaching (ELT) ELT: learning material & coursework ELT workbooks, practice books & exercises
Plný název: Incredible English: 3: Activity Book
Autor: Sarah Phillips
Jazyk: Angličtina
Vazba: Brožovaná
Počet stran: 104
EAN: 9780194442428
ISBN: 019444242X
ID: 01172789 Nakladatelství: Oxford University Press
Hmotnost: 248 g
Rozměry: 276 × 218 × 6 mm
Datum vydání: 22. březen 2012
Oblíbené z jiného soudku
---
O tomto obchodě




Nákupní rádce
Přehledy
Knihy podle jazyka
---
---
Všechny knihy světa na jednom místě. Navíc za skvělé ceny.

Nákupní košík ( prázdný )
---