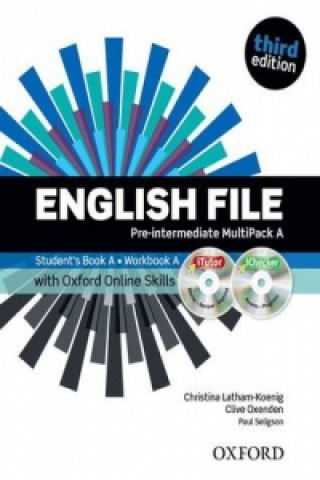 Kód: 04863289
English File third edition: Pre-intermediate: MultiPACK A with Oxford Online Skills
The English File Multipack A and B Student's Book has twelve Files in total. Each File is organised like this:§§A and B lessons§Each File contains two two-page lessons which present and practice Grammar, Vocabulary and Pronunciati ... celý popis

Skladem u dodavatele
Odesíláme za 10-14 dnů
Přidat mezi přání
Mohlo by se vám také líbit
Darujte tuto knihu ještě dnes
Objednejte knihu a zvolte Zaslat jako dárek.
Obratem obdržíte darovací poukaz na knihu, který můžete ihned předat obdarovanému.
Knihu zašleme na adresu obdarovaného, o nic se nestaráte.
Více informací o knize English File third edition: Pre-intermediate: MultiPACK A with Oxford Online Skills
Nákupem získáte 110 bodů
Anotace knihy
The English File Multipack A and B Student's Book has twelve Files in total. Each File is organised like this:§§A and B lessons§Each File contains two two-page lessons which present and practice Grammar, Vocabulary and Pronunciation with a balance of reading and listening activities, and lots of opportunities for speaking. These lessons have clear references to the Grammar Bank, Vocabulary Bank, and Sound Bank at the back of the book. Practical English§Every two Files (starting from File 1) there is a two-page lesson which teaches high-frequency, everyday English (e.g. language for spelling your name, booking a table or telling the time) and social English (useful phrases like That's right and I'm really sorry). Inntegrated into every Practical English lesson is a motivating drama which can be found on the Class DVD, on iTools and on the iTutor. Revise & Check§Every two Files (starting from File 2) there is a two-page section revising Grammar, ocabulary and Pronunciation of each File and providing Reading, Listening and Speaking Can you....? Challenges to show students what they can achieve. There are also two videos in Revise & Check: (1) In the street interviews which give the students the opportunity to listen to and§understand authentic, spontaneous language which is suitable for this level; and (2) short films that extend the Student's Book topics and which are filmed especially for English File. These are also available as audio files on the Class audio CD. The back of the Student's Book§The lessons contain references to these sections: Communication, Writing, Listening, Grammar Bank, Vocabulary Bank, and Sound Bank.
Parametry knihy
Zařazení knihy Knihy v angličtině English language teaching (ELT) ELT: learning material & coursework ELT examination practice tests
Plný název: English File third edition: Pre-intermediate: MultiPACK A with Oxford Online Skills
Podnázev: The best way to get your students talking
Autor: Clive Oxenden, Clive Oxenden, Paul Seligson
Jazyk: Angličtina
Vazba: Brožovaná
Počet stran: 94
EAN: 9780194517966
ISBN: 0194517969
ID: 04863289 Nakladatelství: Oxford University Press
Hmotnost: 434 g
Rozměry: 220 × 276 × 10 mm
Datum vydání: 05. září 2013
Oblíbené z jiného soudku
---
O tomto obchodě




Nákupní rádce
Přehledy
Knihy podle jazyka

---
Osobní odběr Praha, Brno, Ostrava, Olomouc, Plzeň, ČB a 3555 dalších
Při poskytování služeb nám pomáhají soubory cookies. Používáním našich služeb vyjadřujete souhlas s jejich užíváním. Více informací
---
Jsme tu pro vás jako obvykle. Zákaznická podpora a doručení zásilek bez omezení.

Nákupní košík ( prázdný )
---