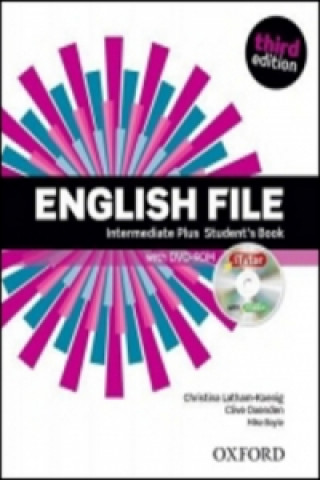 Kód: 00194504
English File Third Edition Intermediate Plus Student's Book with iTutor DVD-ROM
A new edition of the best-selling English File, improved throughout with brand new digital components to use inside and outside the classroom. English File Third edition – the best way to get your students talking. A blend of ... celý popis

Skladem u dodavatele
Odesíláme za 9-16 dnů
Přidat mezi přání
Mohlo by se vám také líbit
143 Kč -21 %
225 Kč -21 %
567 Kč -56 %
190 Kč -31 %
571 Kč -12 %
236 Kč -26 %
343 Kč -12 %
363 Kč -21 %
897 Kč -7 %
324 Kč
Dárkový poukaz: Radost zaručena
Darujte poukaz v libovolné hodnotě a my se postaráme o zbytek.
Poukaz se vztahuje na celou naši nabídku.
Elektronický poukaz vytisknete z e-mailu a můžete ihned darovat.
Platnost poukazu je 12 měsíců od data vystavení.
Více informací o knize English File Third Edition Intermediate Plus Student's Book with iTutor DVD-ROM
Nákupem získáte 70 bodů
Anotace knihy
A new edition of the best-selling English File, improved throughout with brand new digital components to use inside and outside the classroom. English File Third edition – the best way to get your students talking. A blend of completely new lessons, updated texts and activities, together with the refreshing and fine-tuning of some favourite lessons from New English File - English File third edition provides the right mix of language, motivation, and opportunity to get students talking. English File third edition offers more support for teachers and students. Teacher's Book provides over 100 photocopiables to save preparation time, plus extra tips and ideas. iTools brings your classroom to life with the Student's Book, Workbook AND Teacher's Book photocopiable activities, on-screen and interactive. iTutor enables students to revise, review and catch up if they've missed a lesson with all audio and video, plus Grammar, Vocab, Pronunciation, Reading and Listening. Students can learn and practise sounds, words and sentences in context - and take wherever they go - with the Pronunciation App. Sample materials available from the English File website. Key features: Super-flexible package provides everything needed - for both inside and outside the classroom Improved texts and listening that motivate students to talk Four-skills syllabus with a clear focus on pronunciation - plus Grammar Bank exercises for practice and activation of grammar 'Real-world' In-The-Street interviews, Practical English motivating drama and documentary videos Progress tests for each File with clear signposting to additional related practice and reference
Parametry knihy
Zařazení knihy Knihy v angličtině English language teaching (ELT) ELT: learning material & coursework ELT examination practice tests
Plný název: English File Third Edition Intermediate Plus Student's Book with iTutor DVD-ROM
Jazyk: Angličtina
Vazba: Brožovaná
Počet stran: 168
EAN: 9780194558310
ISBN: 978-0-19-455831-0
ID: 00194504 Nakladatelství: Oxford University Press
Hmotnost: 484 g
Rozměry: 277 × 222 × 8 mm
Rok vydání: 2014
Oblíbené z jiného soudku
487 Kč -5 %
436 Kč -15 %
418 Kč -18 %
1027 Kč -12 %
524 Kč -11 %
447 Kč -4 %
657 Kč -12 %
667 Kč -8 %
534 Kč -33 %
---
O tomto obchodě




Nákupní rádce
Přehledy
Knihy podle jazyka
---
---
Jsme tu pro vás jako obvykle. Zákaznická podpora a doručení zásilek bez omezení.

Nákupní košík ( prázdný )
---