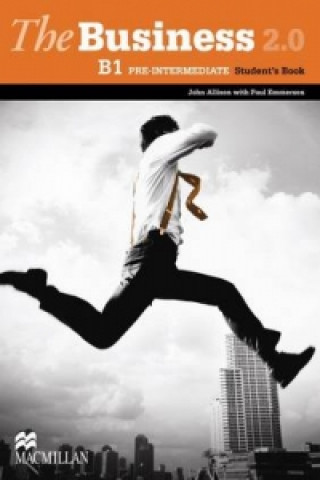 Kód: 04554456
The Business 2.0 Pre-Intermediate
Based on the success of the original edition, The Business 2.0 continues to offer Business English students the confidence, language and fundamentals skills they need to succeed in the competitive international business environmen ... celý popis
801 Kč
Původní cena: 825 Kč
Ušetříte 24 Kč

Skladem
Odesíláme do 48 hodin
Přidat mezi přání
Mohlo by se vám také líbit
Darujte tuto knihu ještě dnes
Objednejte knihu a zvolte Zaslat jako dárek.
Obratem obdržíte darovací poukaz na knihu, který můžete ihned předat obdarovanému.
Knihu zašleme na adresu obdarovaného, o nic se nestaráte.
Více informací o knize The Business 2.0 Pre-Intermediate
Nákupem získáte 80 bodů
Anotace knihy
Based on the success of the original edition, The Business 2.0 continues to offer Business English students the confidence, language and fundamentals skills they need to succeed in the competitive international business environment. Based on feedback from users, research into business English studies and the ever-evolving needs of employers The Business 2.0 has been improved in a number of ways. There is a strong focus on the 'intangible' business skills - emotional intelligence and interpersonal abilities. So not only is the student prepared with the business language and knowledge but also as a well-rounded and receptive approach to dealing professionally with others. The Business eWorkbook - an integral part of the course on a personal computer or laptop. This includes extra language practice, tests and word lists, and audio and video you can download to a tablet, phone or MP3 player for on-the-go learning. This replaces the DVD-ROM from the first edition and new videos for the Advanced and Upper Intermediate level offer good/bad models for the final speaking task, including commentaries by a communications expert. This content is also available for use on a Learner Management System such as Moodle or Blackboard. This is a compact course that makes the most of new media to ensure the package is relevant for both students and teachers. Key Features / What's New - Business fundamentals - an introduction to business with language and topics including: business organization, financial control, CVs and covering letters. - Transparent business links - each module is clearly linked to either: Personal development, Service, Supply chain, Management, Sales and marketing, Enterprise, Finance, International trade - Focus on interpersonal skills - the best professionals are those with great emotional intelligence. Special speaking tasks and the case studies focus on this delicate but vital '5th skill'. - Flexible approach - the modular structure allows you to dip in and out, covering the basics or focusing on speaking or writing. This is the course you can make your own. - The Business eWorkbook - a cutting-edge self-study program to support the course with videos, extra practice and downloadables. - Builds up strength in four key areas: Language Skills: New Technologies: Business Skills: People /interpersonal skills - More communicative grammar in context
Parametry knihy
Zařazení knihy Knihy v polštině Nauki społeczne, humanistyczne, ekonomiczne Językoznawstwo Poszczególne języki
Plný název: The Business 2.0 Pre-Intermediate
Podnázev: Student's Book
Autor: John Allison
Jazyk: Angličtina
Vazba: Brožovaná
Počet stran: 160
EAN: 9780230437807
ISBN: 023043780X
ID: 04554456 Nakladatelství: Macmillan Education
Hmotnost: 470 g
Rozměry: 213 × 296 × 13 mm
Datum vydání: 01. květen 2013
Oblíbené z jiného soudku
---
O tomto obchodě




Nákupní rádce
Přehledy
Knihy podle jazyka

---
Osobní odběr Praha, Brno, Ostrava, Olomouc, Plzeň, ČB a 3670 dalších
Při poskytování služeb nám pomáhají soubory cookies. Používáním našich služeb vyjadřujete souhlas s jejich užíváním. Více informací
---
Z důvodu Brexitu a pandemické situace může docházet ke zpoždění doručení zásilek.

Nákupní košík ( prázdný )
---