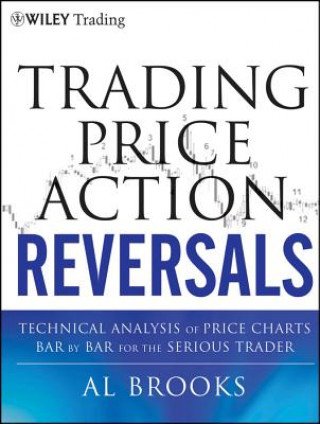 Kód: 04428772
Trading Price Action Reversals - Technical Analysis Price Charts Bar by Bar for the Serious Trader
A detailed guide to profiting from trend reversals using the technical analysis of price action The key to being a successful trader is finding a system that works and sticking with it. Author Al Brooks has done just that. By sim ... celý popis
1664 Kč
Nedodáme do Vánoc

Skladem u dodavatele v malém množství
Odesíláme za 12-15 dnů
Potřebujete více kusů?Máte-li zájem o více kusů, prověřte, prosím, nejprve dostupnost titulu na naši zákaznické podpoře.
Přidat mezi přání
Mohlo by se vám také líbit
Darujte tuto knihu ještě dnes
Objednejte knihu a zvolte Zaslat jako dárek.
Obratem obdržíte darovací poukaz na knihu, který můžete ihned předat obdarovanému.
Knihu zašleme na adresu obdarovaného, o nic se nestaráte.
Více informací o knize Trading Price Action Reversals - Technical Analysis Price Charts Bar by Bar for the Serious Trader
Nákupem získáte 166 bodů
Anotace knihy
A detailed guide to profiting from trend reversals using the technical analysis of price action The key to being a successful trader is finding a system that works and sticking with it. Author Al Brooks has done just that. By simplifying his trading system and trading only 5-minute price charts he's found a way to capture profits regardless of market direction or economic climate. His first book, Reading Price Charts Bar by Bar , offered an informative examination of his system, but it didn't allow him to get into the real nuts and bolts of the approach. Now, with this new series of books, Brooks takes you step by step through the entire process. By breaking down his trading system into its simplest pieces: institutional piggybacking or trend trading, trading ranges, and transitions or reversals (the focus of this book) , this three book series offers access to Brooks' successful methodology. Trading Price Action Reversals reveals the various types of reversals found in today's markets and then takes the time to discuss the specific characteristics of these reversals, so that you can use them in your everyday trading endeavors. While price action analysis works on all time frames, there are different techniques that you can use in trading intraday, daily, weekly and monthly charts. This, among many other issues, is also addressed throughout these pages. Offers insights on how to handle volatility and sharp reversals Covers the concept of using options when trading certain charts Examines how to deal with the emotions that come along with trading Other books in the series include Trading Price Action Trends and Trading Price Action Trading Ranges If you're looking to make the most of your time in today's markets the trading insights found in Trading Price Action Reversals will help you achieve this goal.
Parametry knihy
Plný název: Trading Price Action Reversals - Technical Analysis Price Charts Bar by Bar for the Serious Trader
Autor: Al Brooks
Jazyk: Angličtina
Vazba: Pevná
Počet stran: 576
EAN: 9781118066614
ISBN: 1118066618
ID: 04428772
Nakladatelství: John Wiley & Sons Inc
Hmotnost: 1170 g
Rozměry: 242 × 189 × 37 mm
Datum vydání: 20. únor 2012
Oblíbené z jiného soudku
---
O tomto obchodě




Nákupní rádce
Přehledy
Knihy podle jazyka
---
---
Všechny knihy světa na jednom místě. Navíc za skvělé ceny.

Nákupní košík ( prázdný )
---