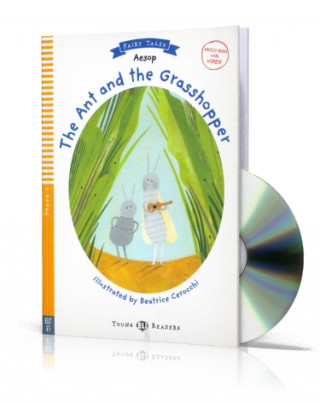 Kód: 28363780
Young ELI Readers 1/A1: The Ant and The Grasshopper + Downloadable Multimedia
The Ant and the Grasshopper + Video MultiROM About the series: The series Young ELI Readers - Fairy Tales is divided into four levels according to the language level of the readers. It's in line with the indications of the Commo ... celý popis

Skladem u dodavatele
Odesíláme za 3-6 dnů
Přidat mezi přání
Mohlo by se vám také líbit
Darujte tuto knihu ještě dnes
Objednejte knihu a zvolte Zaslat jako dárek.
Obratem obdržíte darovací poukaz na knihu, který můžete ihned předat obdarovanému.
Knihu zašleme na adresu obdarovaného, o nic se nestaráte.
Více informací o knize Young ELI Readers 1/A1: The Ant and The Grasshopper + Downloadable Multimedia
Nákupem získáte 13 bodů
Anotace knihy
The Ant and the Grasshopper + Video MultiROM About the series: The series Young ELI Readers - Fairy Tales is divided into four levels according to the language level of the readers. It's in line with the indications of the Common European Framework of Reference for Language and comprise useful language certification exercises. This ensures that learners will meet language and structures they have already studied or which are commensurate with their level, making reading an achievable, enjoyable and stimulating experience. Stages: Stage 1 (100 headwords) Below A1 Starters Stage 2 (200 headwords) A1 Starters/Movers Stage 3 (300 headwords) A1.1 Movers Stage 4 (400 headwords) A2 Flyers About The Ant and the Grasshopper + Video MultiROM: Stage 1: Below A1 It's very hot in summer but the ant works hard. Grasshopper doesn't like working. She prefers singing. But then winter arrives and it's very cold. Ant has got lots of food. Her house is warm and nice. Grasshopper knocks at the door. She's hungry. She doesn't want to sing and dance now! Features: • 2 introductory pages of pre-reading activities enable the young learners to familiarize with the characters and the vocabulary of the story. • Entertaining while-reading activities accompany the story, in addition to the activity pages at the end of the book. • A song is featured in every book: fun and learning are guaranteed! • Two "Make it" project pages allow the young learners to make small objects with the aid of authentic photos and simple instructions: they can thus create… while reading in a foreign language! • Two or more pages are devoted to the dramatization of the story. With the Let's act! section every pupil will get involved and take an active part in an exciting drama project! • Every reader is accompanied by a Video Multi-ROM, adding a new, digital dimension to reading in class with an IWB or at home on the PC. With the Video Multi-ROM children follow fun animations of the story, listen to the recordings, do engaging, interactive and auto-correcting exercises, and much more! Syllabus: Grammar and structures: Present simple – positive, negative and interrogative forms - Present continuous (not with future reference) - Like + v + -ing - Determiners – a, an, the, some, these - Can for ability - Conjunctions (and, or) - Possessive adjectives (his, her) Vocabulary areas: fruit and vegetables, food, the weather and the seasons In this Reader you will find: Games and language activities | A Make it section | A Let's Act! section | An audio recording of the story and the song
Parametry knihy
Zařazení knihy Knihy v češtině Učebnice a odborná literatura Cizí jazyky Angličtina
Plný název: Young ELI Readers 1/A1: The Ant and The Grasshopper + Downloadable Multimedia
Autor: Lisa Suett
Jazyk: Čeština
Vazba: Brožovaná
Počet stran: 32
EAN: 9788853618955 ID: 28363780 Nakladatelství: ELI
Hmotnost: 145 g
Rozměry: 210 × 148 × 5 mm
Datum vydání: 01. únor 2017
Oblíbené z jiného soudku
211 Kč -10 %
496 Kč -16 %
522 Kč -12 %
235 Kč -12 %
218 Kč -27 %
383 Kč -17 %
187 Kč -6 %
434 Kč -27 %
522 Kč -12 %
372 Kč -5 %
18 Kč -28 %
550 Kč -11 %
194 Kč -10 %
19 Kč -24 %
---
O tomto obchodě




Nákupní rádce
Přehledy
Knihy podle jazyka

---
Osobní odběr Praha, Brno, Ostrava, Olomouc, Plzeň, ČB a 3538 dalších
Při poskytování služeb nám pomáhají soubory cookies. Používáním našich služeb vyjadřujete souhlas s jejich užíváním. Více informací
---
Jsme tu pro vás jako obvykle. Zákaznická podpora a doručení zásilek bez omezení.

Nákupní košík ( prázdný )
---