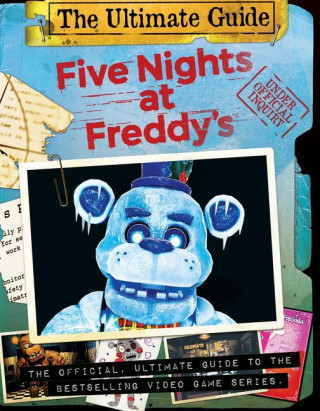 Kód: 33605446
Five Nights at Freddy's Ultimate Guide (Five Nights at Freddy's)
Fans won't want to miss this ultimate guide to Five Nights at Freddy's - bursting with theories, lore, and insights from the games, books and more! This all-encompassing guidebook concentrates material from The Freddy Files (Updat ... celý popis
320 Kč
Původní cena: 388 Kč
Ušetříte 68 Kč

Skladem u dodavatele
Odesíláme za 5-8 dnů
Přidat mezi přání
Mohlo by se vám také líbit
Darujte tuto knihu ještě dnes
Objednejte knihu a zvolte Zaslat jako dárek.
Obratem obdržíte darovací poukaz na knihu, který můžete ihned předat obdarovanému.
Knihu zašleme na adresu obdarovaného, o nic se nestaráte.
Více informací o knize Five Nights at Freddy's Ultimate Guide (Five Nights at Freddy's)
Nákupem získáte 32 bodů
Anotace knihy
Fans won't want to miss this ultimate guide to Five Nights at Freddy's - bursting with theories, lore, and insights from the games, books and more! This all-encompassing guidebook concentrates material from The Freddy Files (Updated Edition) and adds over 100 pages of new content exploring Help Wanted, Curse of Dreadbear, Fazbear Frights, the novel trilogy, and more! Fans hungry for fresh Five Nights at Freddy's lore can sink their teeth into this massive guidebook packed with mythology, gameplay and secrets to help unwind the twisted mysteries lurking behind the smiling face of Fazbear Entertainment. Delving into each game, players can map the animatronics' paths, learn how timed elements of the games work, and discover how to trigger unique events. Special sections throughout highlight FNAF fans' most talked-about topics, from the alternate endings in Help Wanted and Curse of Dreadbear, to the new technology introduced in Fazbear Frights, to the ways that Easter eggs, rare screens, and hidden content can shed light on some of the more elusive questions in the FNAF universe.A comprehensive animatronics inventory and reproduced content from the Fazbear Entertainment Archives complete this compendium, helping fans bring their theories straight to the source. All the evidence, along with every detail of the games, books and more, is laid out for fans to explore in this one-of-a-kind guide to the warped world of Five Nights at Freddy's. Over 100 pages of new content The ultimate guide, full of gameplay, secrets and mythology Perfect for gamers and fans of horror.
Parametry knihy
Na knihu sleva pro
ISIC/ITIC držitele
320 Kč
Plný název: Five Nights at Freddy's Ultimate Guide (Five Nights at Freddy's)
Jazyk: Angličtina
Vazba: Brožovaná
Počet stran: 264
EAN: 9781338767681
ISBN: 1338767682
ID: 33605446 Nakladatelství: Scholastic US Datum vydání: 02. listopad 2021
---
O tomto obchodě




Nákupní rádce
Přehledy
---
Při poskytování služeb nám pomáhají soubory cookies. Používáním našich služeb vyjadřujete souhlas s jejich užíváním. Více informací
---
Jsme tu pro vás jako obvykle. Zákaznická podpora a doručení zásilek bez omezení.

Nákupní košík ( prázdný )
---