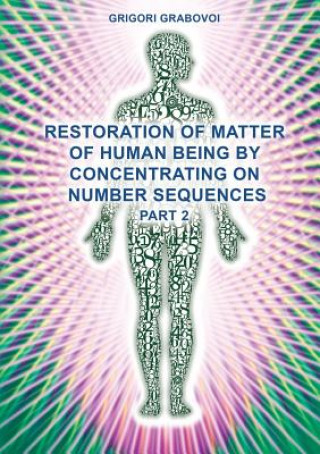 Kód: 08938306
Restoration of Matter of Human Being by Concentrating on Number Sequences (Part 2)
(ENGLISH EDITION), Part 2. All the methods of restoration of human matter with the help of concentration on number sequences given in this book can be used with preventive and sanitary purposes, for rejuvenation, and ... celý popis

Skladem u dodavatele
Odesíláme za 20-25 dnů
Přidat mezi přání
Mohlo by se vám také líbit
Dárkový poukaz: Radost zaručena
Darujte poukaz v libovolné hodnotě a my se postaráme o zbytek.
Poukaz se vztahuje na celou naši nabídku.
Elektronický poukaz vytisknete z e-mailu a můžete ihned darovat.
Platnost poukazu je 12 měsíců od data vystavení.
Více informací o knize Restoration of Matter of Human Being by Concentrating on Number Sequences (Part 2)
Nákupem získáte 100 bodů
Anotace knihy
(ENGLISH EDITION), Part 2. All the methods of restoration of human matter with the help of concentration on number sequences given in this book can be used with preventive and sanitary purposes, for rejuvenation, and in case of necessity, to restore the matter, regardless of the initial data, on the basis of which the matter is restored. When using the described methods in paragraphs 1-9 in the introduction you can consider the following: -With the aim of prophylaxis it is expedient to make rehabilitation with the simultaneous spreading the effect of concentration on number sequences for the future. -For rejuvenation it is expedient to concentrate in succession at first on the number sequence, located in the content (of the book), taking into account the task of eternal development, and then concentrate on the matter which you are locally rejuvenating. -Restoring the matter of the body, you can perform concentration on number sequences in succession with the help of the various methods given in this book. You can use the number sequences corresponding to the matter being restored, as well as the number sequences of the area, which includes the matter you are restoring. -If it is necessary to restore the matter after biological death, then you should at first concentrate on the numbers consecutively from left to right, then in reverse order - from right to left. The spiritual impulse creating human matter makes it possible to expand the methods of restoration. Restoring the human matter one must strive to develop the spiritual level to the state in which the matter is created and functions by the spiritual activity, along with the biological principles and principles of events. Such spiritual state in the process of implementation of the methods of the eternal development must ensure full restoration of human matter, regardless of the initial data and any circumstances. Frequently Bought Together
Parametry knihy
Zařazení knihy Knihy v angličtině Society & social sciences Psychology
Plný název: Restoration of Matter of Human Being by Concentrating on Number Sequences (Part 2)
Autor: Grigori Grabovoi
Jazyk: Angličtina
Vazba: Brožovaná
Počet stran: 268
EAN: 9783943110753
ISBN: 9783943110753
ID: 08938306
Nakladatelství: Jelezky Publishing Ug
Hmotnost: 348 g
Rozměry: 210 × 151 × 15 mm
Datum vydání: 07. červen 2013
Oblíbené z jiného soudku
---
O tomto obchodě




Nákupní rádce
Přehledy
Knihy podle jazyka
---
---
Všechny knihy světa na jednom místě. Navíc za skvělé ceny.

Nákupní košík ( prázdný )
---